Today, it is exactly 10 years since I bought the domain digitalistic.com. It was September 13th 1999 when I registered the domain, before that I was a domain virigin. For most of the time it has been a really bad web site to market my consulting skills, that it was bad didn't really matter since I had employment for most of the time anyway. For years the only reason I kept the domain was to have my own private email address and not use my work email or hotmail for my private stuff (yes, this was BEFORE GMail, it was that long ago).
There have been versions in Swedish, Spanish and English (even a breif French one) depending on where in the world I were at any given moment and the designs have varied quite a lot, as you can see below. A few years ago I started blogging and since then digitalistic.com has been a perfectly OK blog. Here's a look back at old digitalistic.com designs…
1999 – 2002
Not much to say… it was one of my first web pages and I have learned a lot since then. At least I didn't have a spinning @ sign or any applets on the page!
2002 – early 2006
Here's the Spanish version of the second generation of digitalistic.com. I still use the logo from back then, even if the colours have changed (thanks Kemie for the great logo!).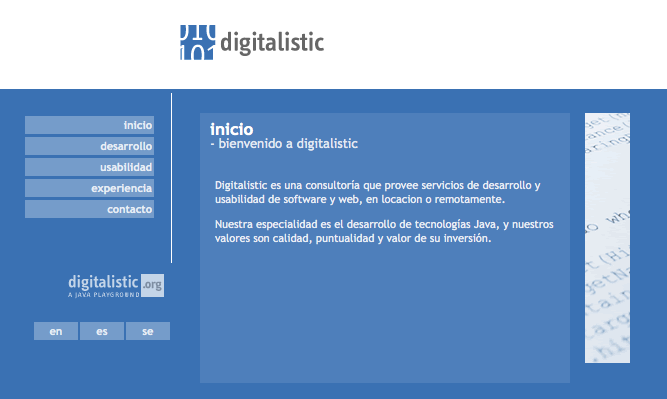 2006 – early 2008
Then the blogging started…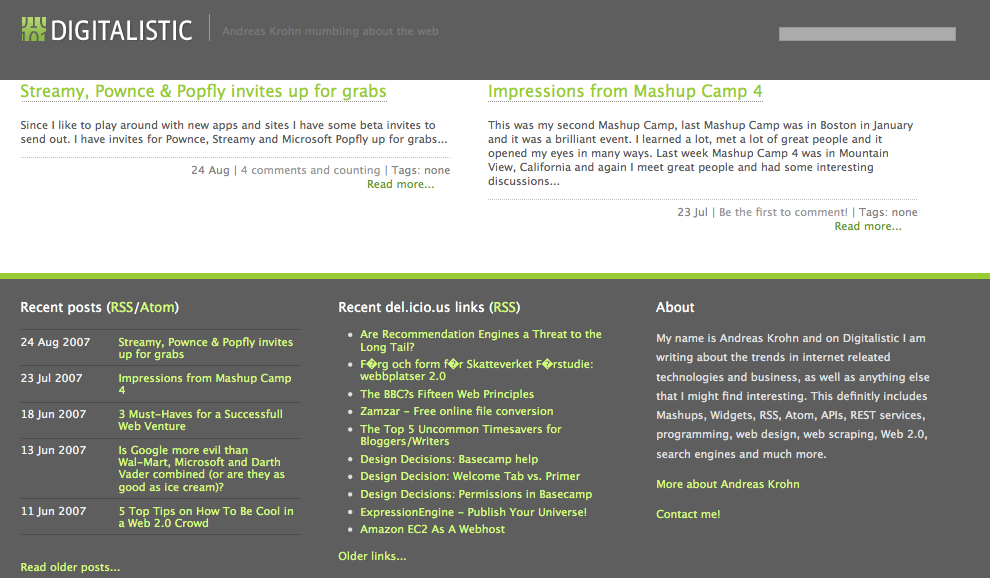 (Both Pownce and Popfly that I had invites to back then are not dead – RIP Pownce!)
2008 – 20??
You are looking at it! (or if you are reading the RSS feed, you could be looking at www.digitalistic.com)
I have no plans to let digitalistic.com go and it will be my main domain for quite some time. It will be cool to see how it develops during the next 10 years (assuming we still use domains in 10 years that is).